Vegan Wine
Posted by David Laity on

Everything you wanted to know,
but were afraid to ask about Vegan Wines.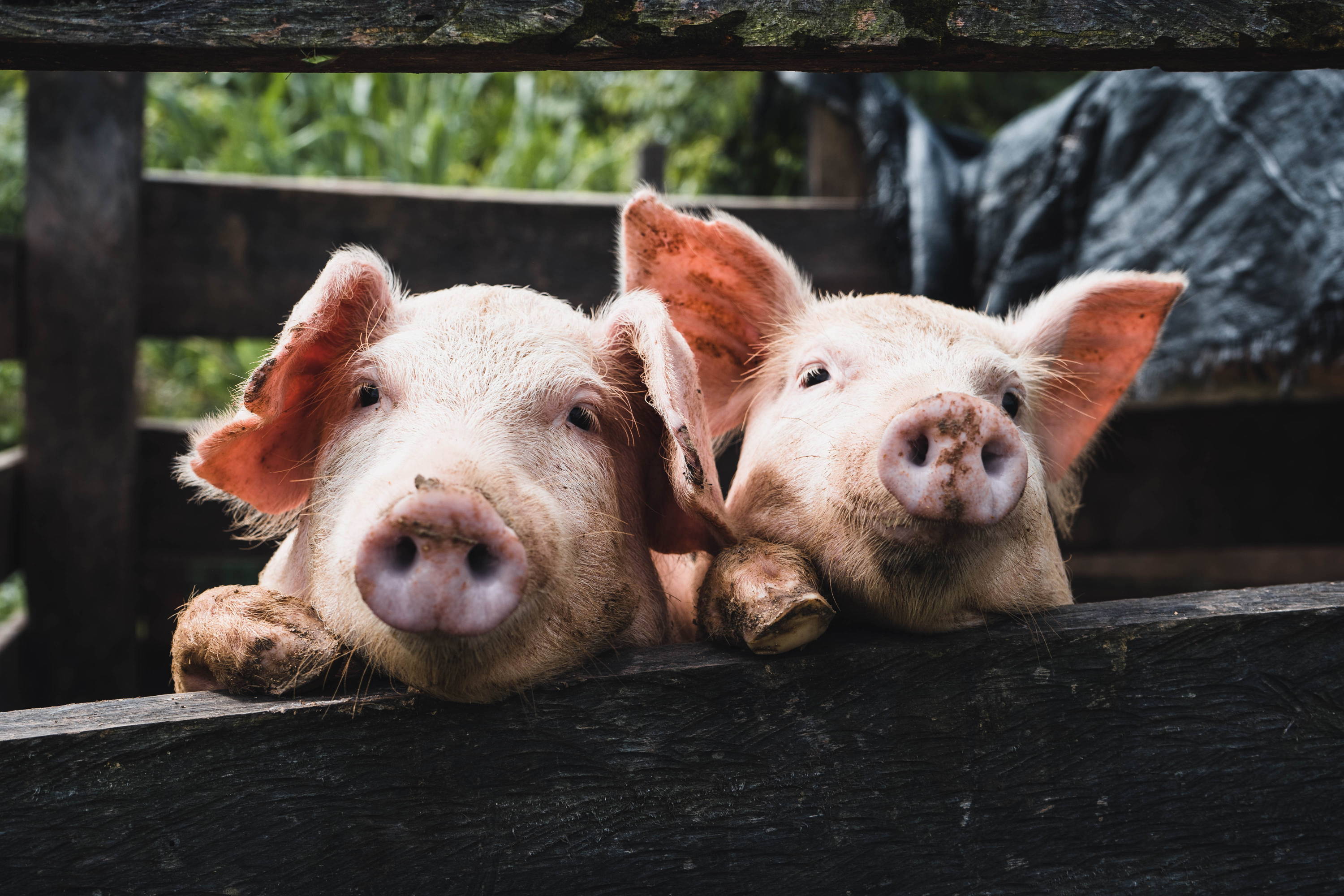 photo by Kenneth Schipper Vera - licenced under unsplash
Aren't all wines suitable for vegans?
Absolutely not. A lot of wines are not vegan friendly and it has everything to do with the way they were made. Similarly, many wines are not suitable for vegetarians, although they have more options available. You need to do your homework. Some popular brands are, some aren't.
Let us be of assistance.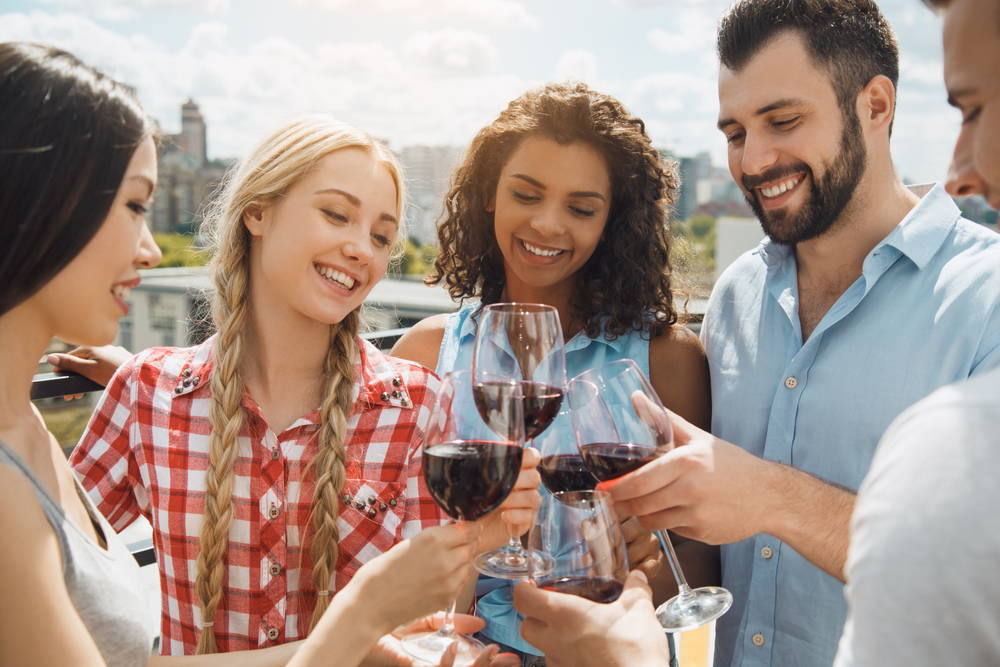 photo by friends stock - licenced under Shutterstock
So, can vegans have wine?
Definitely! Many wines are not vegan, but there are vegetarian wines, vegan friendly wines, vegan wineries and vegan winemakers. In its unadulterated state, wine is just fermented grapes. There is more to it though. Rest easy that you have options and read on!
What is the difference between vegan wine and normal wine?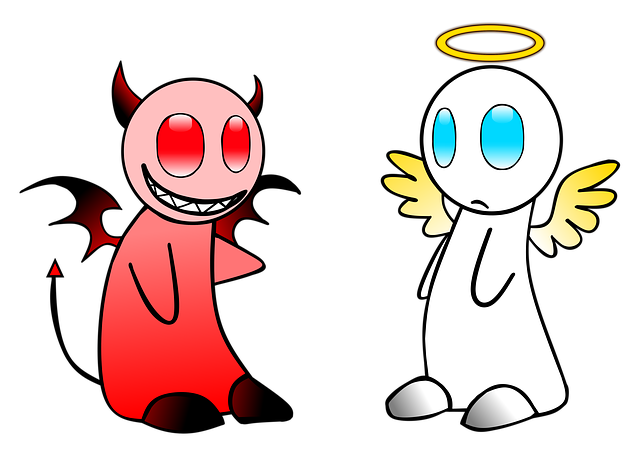 Not a lot to be honest. Many premium wines and popular brands are vegan by default. It's more concerning to vegan wine lovers that many bottles of wine are not marked vegan at all. In Australia, we're fortunate that labelling has to list allergens such as egg whites, but it's not necessary to list all the non-vegan products you may find in a bottle.
Let's break down the wine making process for a minute here. Grow grapes, harvest them, crush them, ferment them, clarify them, and then age and bottle the grapes. No animal derived products necessary.
However, and it's a big however for vegans, that clarify part of the process is where things can get decidedly less vegan friendly.
Let's investigate why.
Photo by David Becker - licenced under Unsplash
Wine producers want their product to be attractive to the eye as well as delightful to drink. Consumers often demand certain standards without always knowing the costs these standards incur. Those lovely red or purple hues in your cabernet sauvignon aren't always there when the wine is first bottled. The transparency, hue, viscosity (mouthfeel), colour and appearance of 'clean wine' in your favourite pinot noir are all regulated by clarification. Clarifying the wine involves removing insoluble matter. This can be done using time (and gravity) as the sediment settles to the bottom.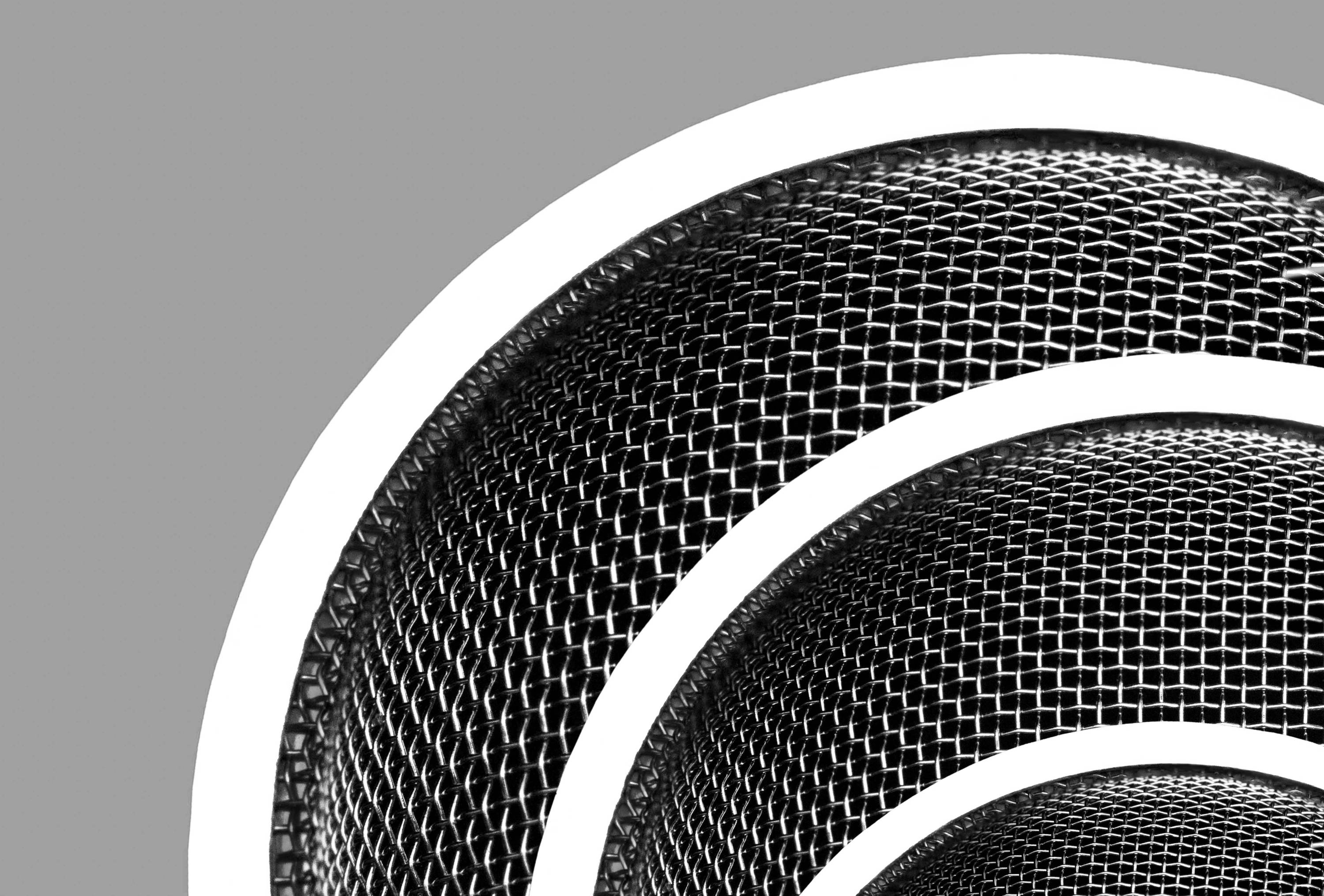 '

Photo by Rae Wallis - licenced under Unsplash
There are a range of options available to the winemaker. You can clarify before, during or after fermenting the grapes. You can avoid it altogether - this is often known as natural wine or minimal intervention wine (these terms are controversial, mind you). Most popular brands and award winners will use a range of techniques to clarify their wine.
You can filter the wine, pasteurize it, refrigerate it, centrifuge it or let time and gravity do their work. None of these processes use animal products and are thus vegan friendly. However, it's very common to use fining agents as processing aids.
Fining is adding a substance - the fining agent - to wine in order to create a chemical or physical bond with the suspended particles. These particles will then either settle to the bottom of the wine barrel or bottle, or they can be filtered out.
All clear? Wine can be clarified and not filtered. Wine can be filtered and not clarified. Wine can be both and wine can be neither. If your wine is labelled as unfined - you'll be fine! Most popular brands don't use this terminology though.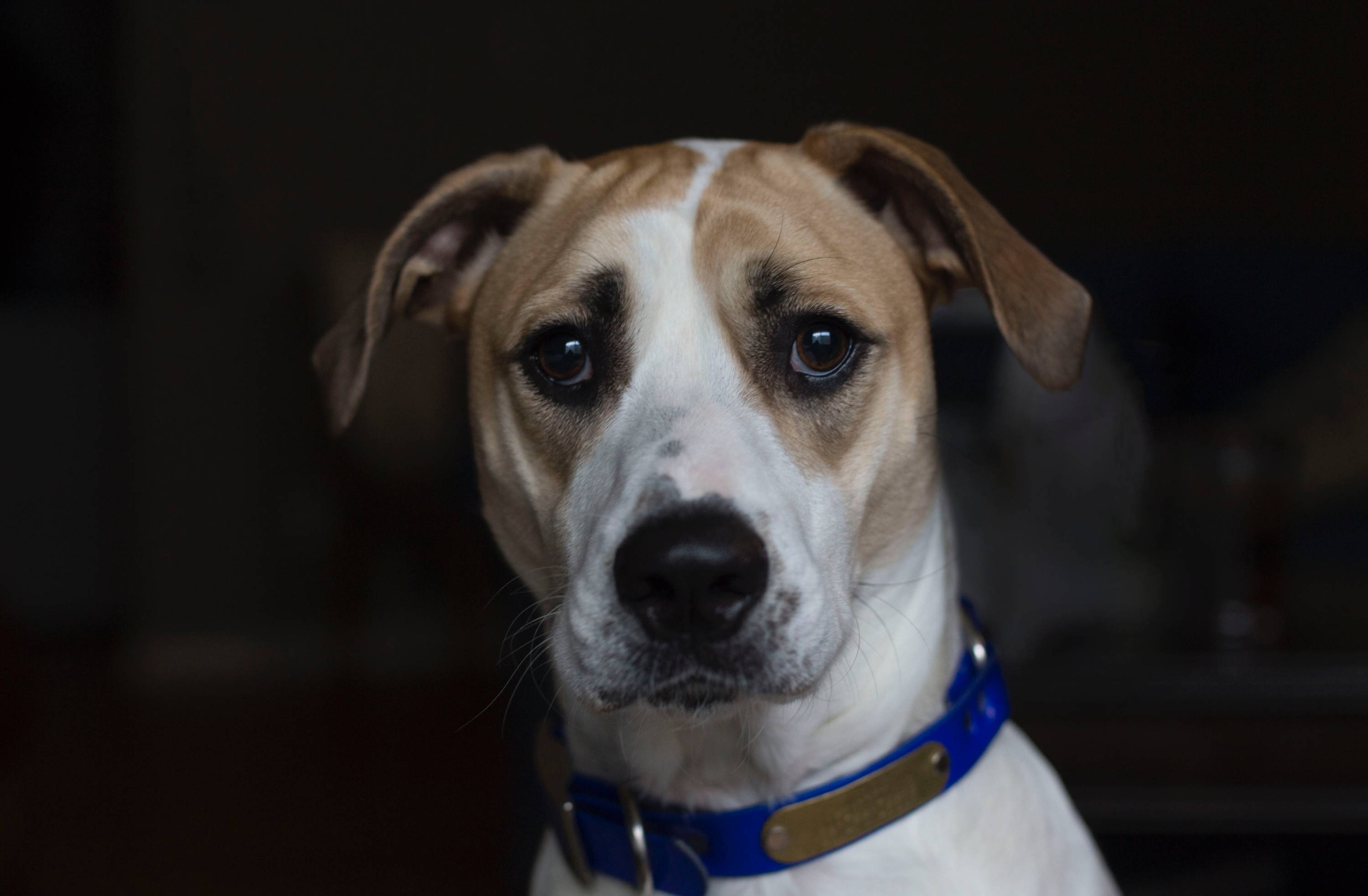 Photo by Jarrod Reid - licenced under Unsplash
Sometimes, but rarely in this age of screw caps, you might find a cork made with beeswax. You'll need to do your research when it comes to the vineyard itself - even being certified organic is no guarantee that natural insecticides are not used. But when it comes to the bottle of wine itself, it's the fining additives that determine whether or not that glass of sauvignon blanc in your hand is vegan friendly or not.
Wine will clarify and tannins will soften, to a certain extent, with age. By adding clarifying agents to the wine this process is accelerated. Here are some of the non vegan friendly ingredients you might find in your wine. Caveat emptor!
Non Vegan Additives
Gelatin - Protein from animal bones and cartilag.

Isinglass - Dried fish bladders. Also used in beer.

Bone Marrow - Spongy tissue taken from inside animal bones

Ox Blood - banned by the U.S and Europe in 1997. Not used in Australia.

Diatomaceous Earth - a type of powder made from the sediment of fossilized algae found in bodies of water. It's high in silica and often used in certified organic gardening.

Casein - milk protein. Mostly used in white wines.

Albumen - Egg Whites. Mostly used in red wine.
Vegan Additives
Pea or potato proteins

Bentonite Clay

Kaolin Clay

Limestone

Silica gel

Plant-based casein

Activated charcoal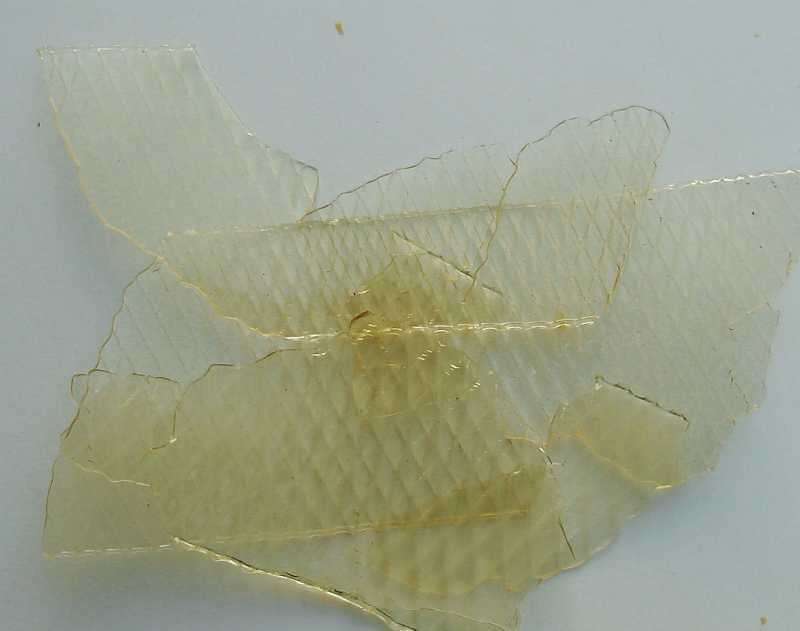 Are wine preservatives ok for vegans?
As a vegan, sure, you can drink wines with sulphites (sulphur dioxide) added. Whether you want to or is another question. Here's some information to help you decide.
First, sulphur dioxide is a preservative. Without it, your wine may become 'corked' more quickly. Under Australian law, dry wines can have up to 250 mg/L (ppm) of sulphites, and sweeter wines - due to their greater risk of spoilage - up to 300 mg/L.
It is interesting to note here that a handful of dried apricots will contain more sulphur dioxide than your average bottle of wine.
Why is this an issue?
Mainly because some people are more sensitive to sulphites than others and there is some evidence to suggest they may contribute to hangovers. The labelling around this is confusing, because sulphites are produced naturally during fermentation, so you will still end up with a level of sulphur dioxide in preservative free wine.
Photo by peterschreiber.media - licenced under Adobe Commnos
Where can I find vegan wine?
The online store features ONLY vegan friendly wine from many five star vineyards and won best vegan wine and the people's choice award in Australia's biggest vegan competion in 2021 - The Nourish Awards.
You can join the wine club to receive special offers on mixed cases, 50% of all profit goes to charity and, as a result, they've raised over $450,000 for many different Australian causes. The kicker is you get to decide where the profits go.
We recommend trying a 91pt bottle of 2019 Pinot Noir for under $20 per bottle. Savoury-spicy but with a core of sweet fruit, delicious, mostly of ripe berries but with fresh herb and undergrowth-like highlights. Campbell Mattinson - The Winefront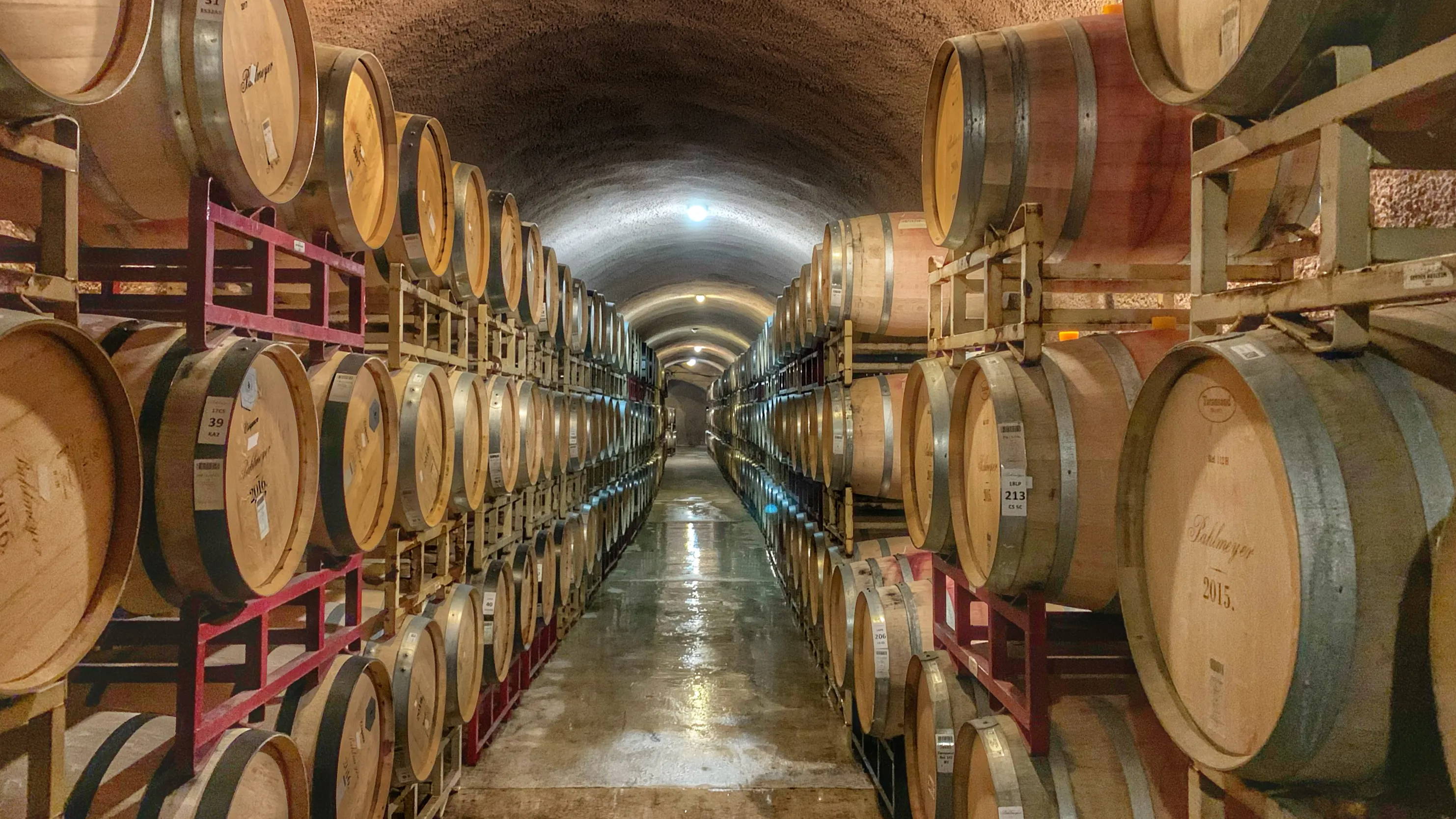 Photo by Jim Ellis - licenced under Unsplash
Harris Organic is the only certified organic vegan winery in Perth, making dairy free wines.
Cullen Wines Margaret River, use biodynamic farming, and make some of the best vegan wines in Australia.
d'Arenberg, also from McLaren Vale, are mostly vegan.
Alpha, Box and Dice from McLaren Vale, are an organic and sustainable winery making vegan wines.
Temple Bruer, one of our personal favourites, is from the Barossa Valley, are carbon neutral, make 100% organic wine AND are vegan.
DeBortoli, in the Yarra Valley, have an entirely vegan range, 17 Trees, and a number of other wines (including all the whites) in the portfolio that are vegan suitable. They're pioneers in the use of potato and pea clarifying agents in their wines.
Philip Lobley Wines, Glenburn based, definitely deserve a shout out. They are non-fined and non-filtered, so that's an automatic tick on the vegan friendly. They grow pinot noir and nebbiolo in a certified organic, self sustaining vineyard.
Lowe Wines, from Mudgee, are super sustainable folks. Biodynamic, untrellised, unirrigated, certified organic and preservative free..
Philip Lobley Wines, Glenburn based, definitely deserve a shout out. They are non-fined and non-filtered, so that's an automatic tick on the vegan friendly. They grow pinot noir and nebbiolo in a certified organic, self sustaining vineyard.
Sinapius Vineyard, Pipers River Region, make certified organic, un-fined, un-filtered and therefore all vegan vino.
Does vegan wine give you a hangover?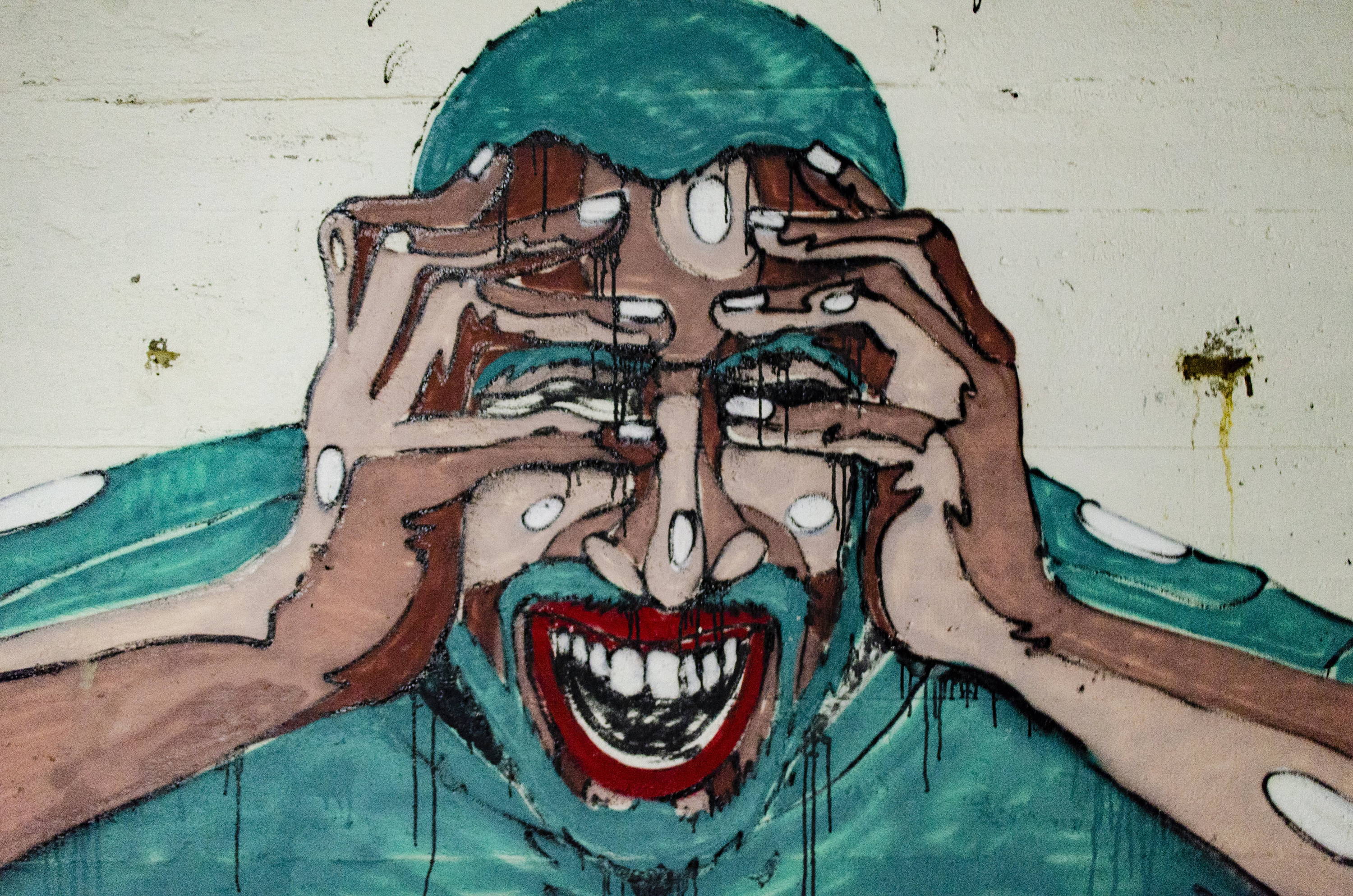 Sad to say, but like any other wine, a glass too many of vegan wine can most certainly still give you a hangover. The main reason for feeling rough the next day (or a few hours after you've stopped) is from ethanol - it's the alcohol in your booze. It's a diuretic - like coffee or tea - which makes you pee more than usual. This, in turn, leads to dehydration which is one of the main reasons you've got that tightness in your head.

Ethanol isn't the only chemical produced by fermentation though. As the yeast converts sugar into ethanol, congeners are also produced. They definitely have some role to play in flavour and mouthfeel, but also in hangovers.
White wine is lower in congeners than red wine (tannin, for example, is a congener), so there is some truth in red wines giving you a worse hangover the next day.
If soy, chocolate or dark tea gives you a headache, you may be sensitive to tannins and white wine will be a better choice for you. The same goes for histamine, found in the skin of grapes, so therefore more prevalent in red wine.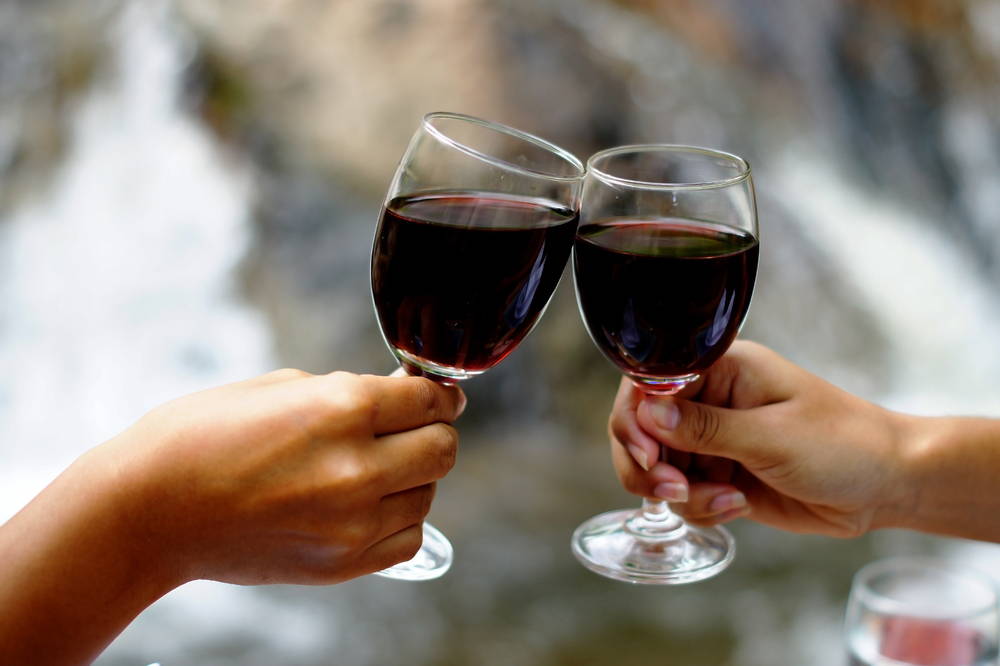 Photo by Sutprattana Studios - licenced under shutterstock
To help salvage the reputation of red wine here (which I do love), red wines are often less sweet and sugar can certainly increase dehydration and thus your headache and lethargy. This can be why overindulging in champagne may have consequences!
Here's a qualified answer to the question though - by not using any animal products in the fining process, the chance of having an allergic reaction to these products is obviously eliminated. Truly, less is more!
Common misconceptions about Vegan Wine
Wrong! It may, of course, taste different depending whether or not a fining agent was used. Many top drops are vegan and you wouldn't know it. It's not hard to find 90+ point vegan wines. In fact Cullen Wines, Temple Bruer and DeBortoli make some of the most awarded wines in the country.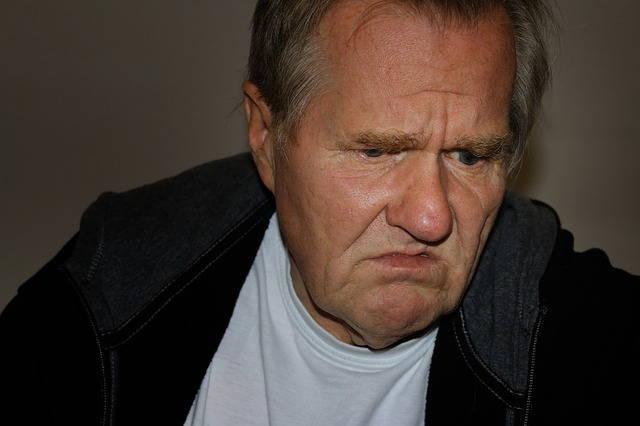 photo by Geralt- licenced under Pixabay
Wrong! Yalumba has a whole vegan range since 2011- and they're one of the biggest privately owned wine companies in Australia. Marks and Spencer, the UK supermarket chain, has committed to only stocking vegan friendly wines by 2022.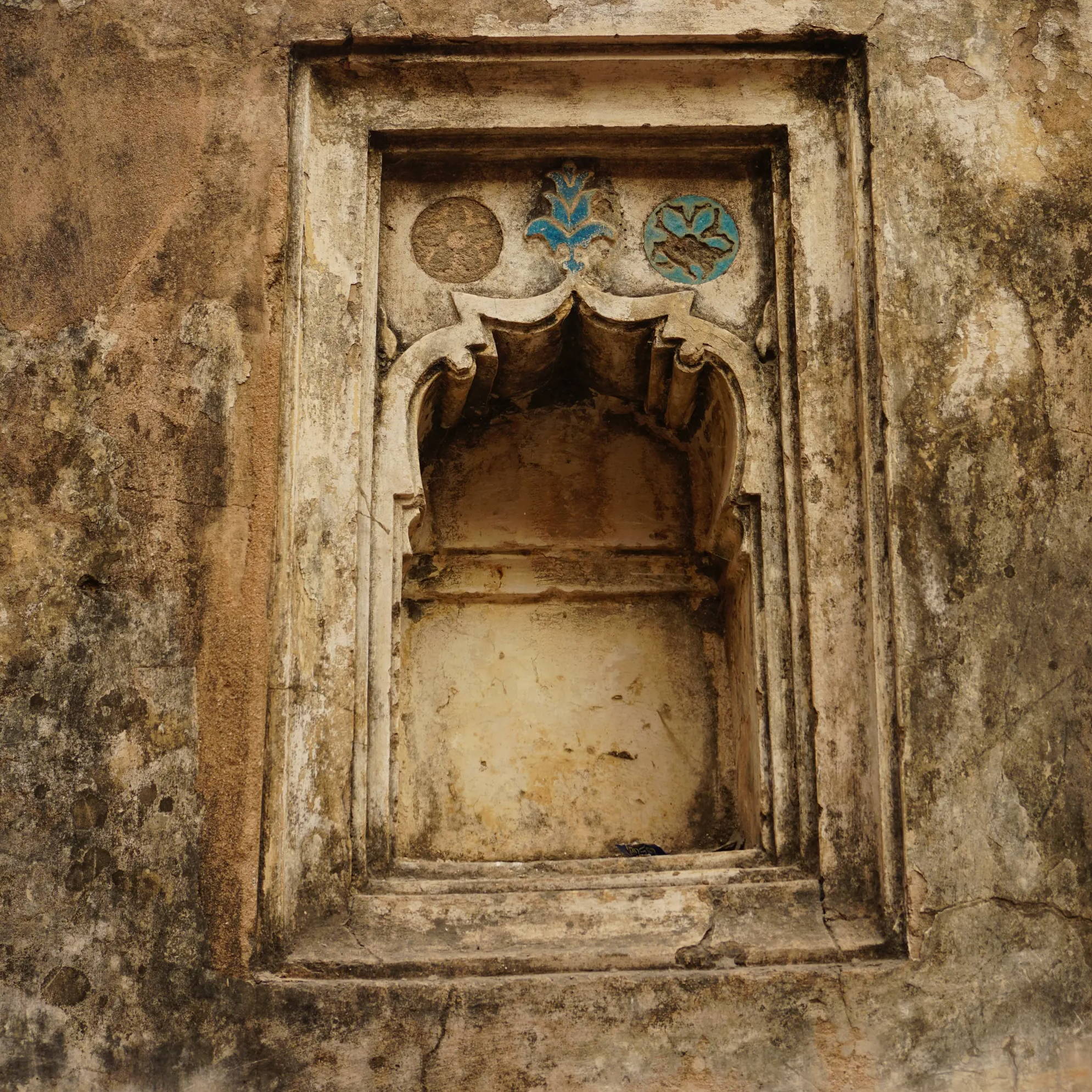 photo by Shruti Singh- licenced under Unsplash
Certified organic wine, minimal preservatives, preservative free wine, minimal intervention, or natural wines are vegan.
Wrong! They may be, but not necessarily. In fact, of the above list it's most probably the last category, natural wines, that are likely to be vegan. Even then, it's no certainty. The only way to know for sure is to do your research or choose a company that exclusively sells vegan wines.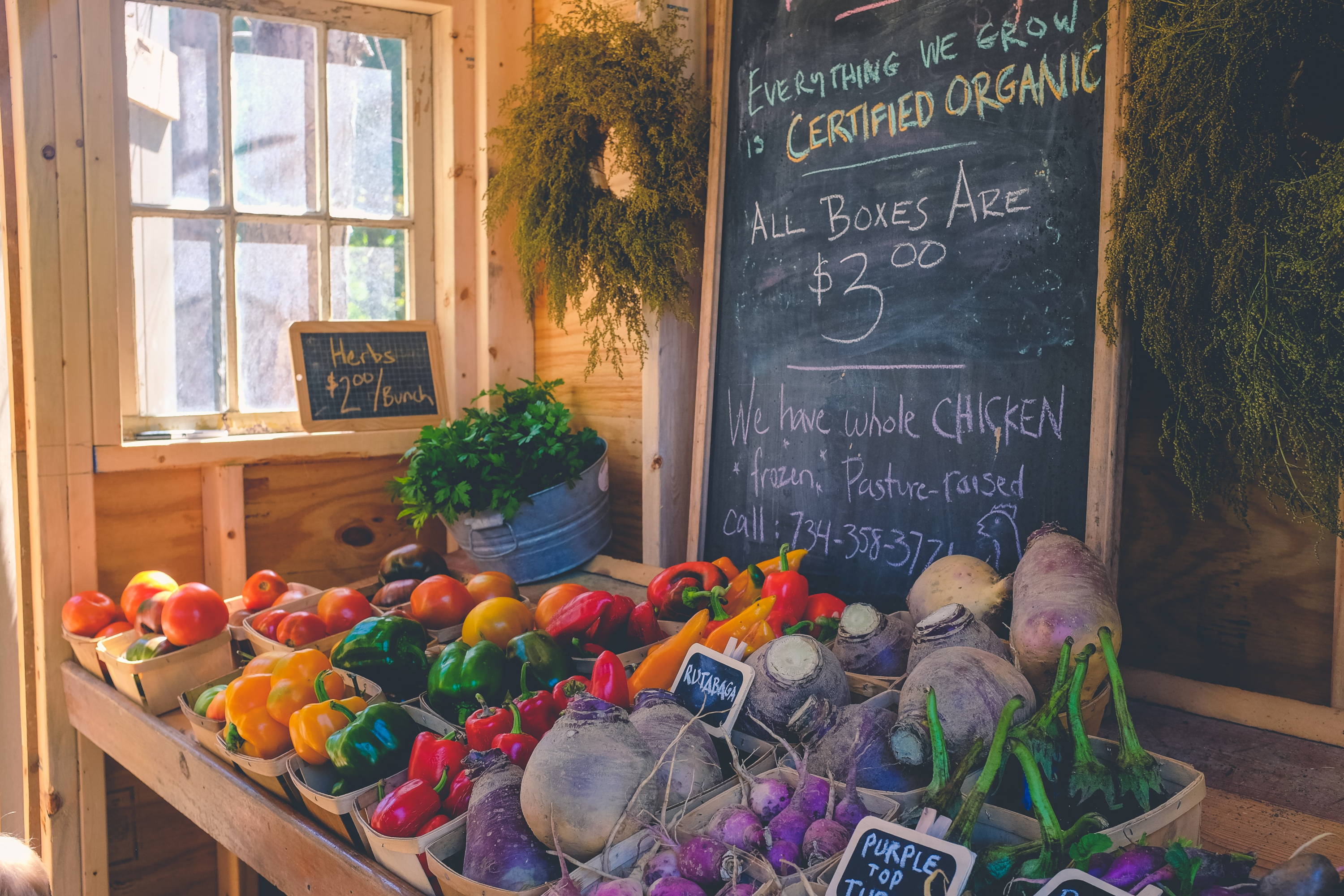 I can just check the label.
Wrong! Basically, if the label has "may contain traces of animal products" on it, well, it's not gonna be vegan. But laws in Australia only mandate listing potential allergens - egg whites or milk protein for instance. Winemakers are also permitted to include up to 50 additives in their product without including them on the label. Their argument is that these products are removed by filtering or 'racking' where the wine is siphoned off from the remaining solids.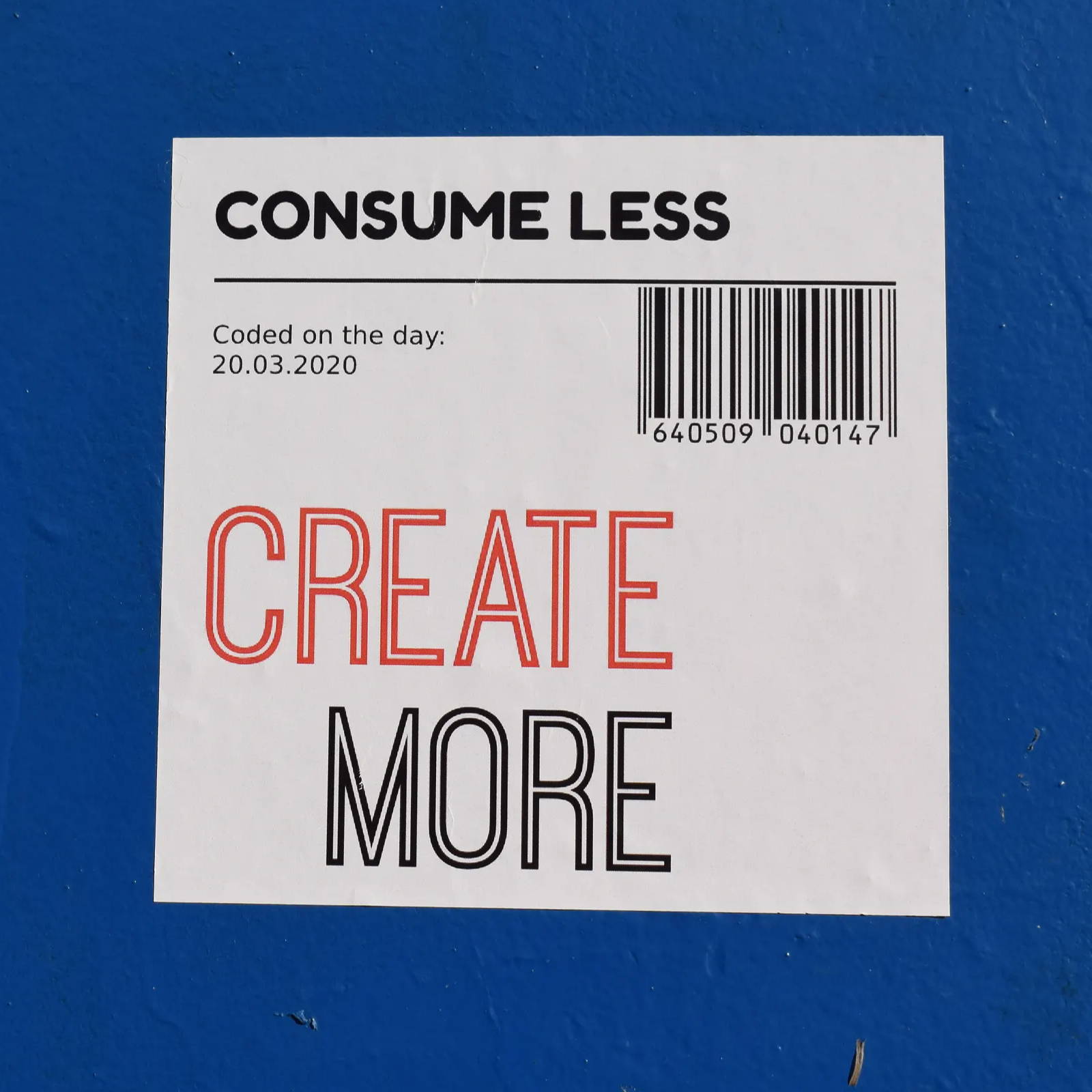 We hope you've enjoyed this run down of what makes a wine vegan friendly and what doesn't. For many the idea of wine being vegan is an odd concept - after all it's made from grapes.
There will of course be those who dig in their heels and say there were insects on the vines and therefore no wine can be vegan and I suppose that is true. It's an argument however being made for the sake of an arguement and following on from that logic, pretty much no foods we consume are vegan. We would like to think that life is not black and white, it's not even red and white, but it's in the shades of grey that all the fun exists.
Goodwill Wine is Australia's only certified social enterprise wine company.
What's that you ask?
We are a wine company with soul. While many other wine companies are focussed on maximising profits, we are focused on maximising our impact. We do this by donating half our profits to Australian charity. Better still, when you buy, you get to tell us where the money goes.
Our wines are every bit as good as our competitions - in fact hundreds of five star reviews would indicate better (see below) and thanks to Australian's choosing to buy their wine ethically, we have been able to donate almost half a million dollars to date.
So why would we do this?
Our founder, David Laity lost most of what he owned in the Black Saturday bushfires. Thanks to the generosity of fellow Australians, he was given the chance to start again and so he made it his mission to pay forward the help he received.
You can read his story here
Looking for a wine that helps save the world, one bottle at a time?
...While also tasting amazing
Get 10% off your first order! Use the code OMOSNVT at checkout.
*One use per customer. Offer excludes Wine Club subscriptions and Choose Your Own customised products.
Here's what our customers are saying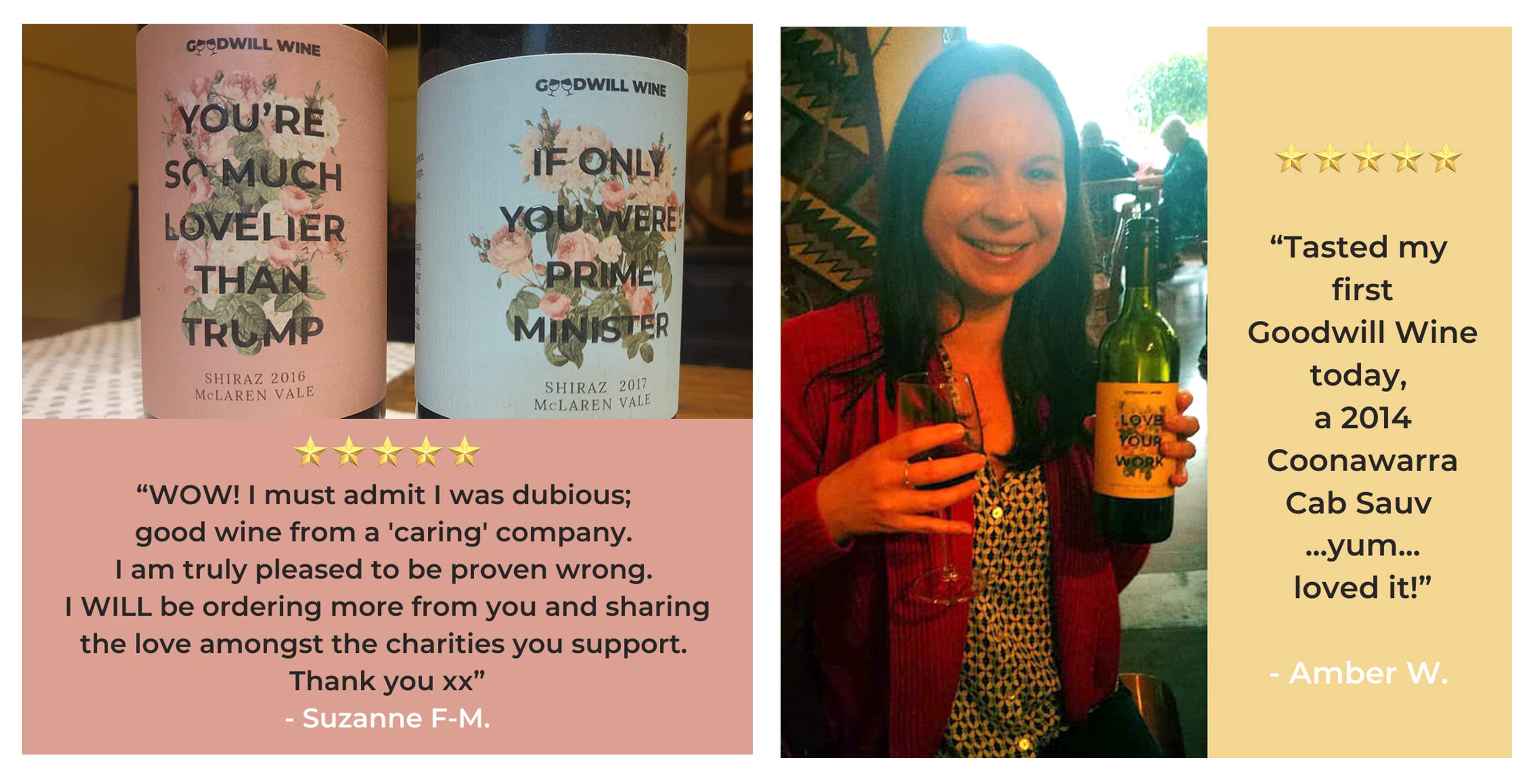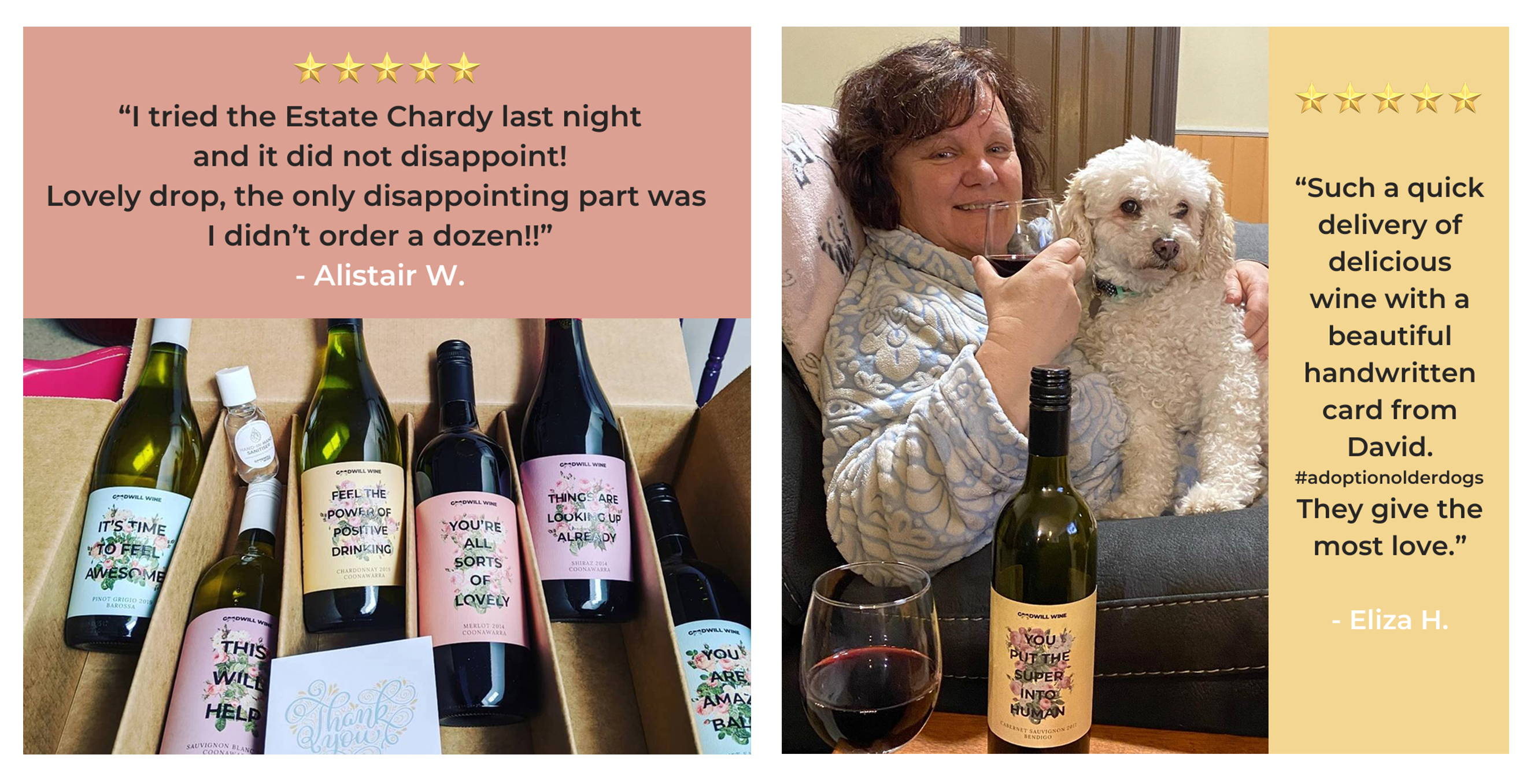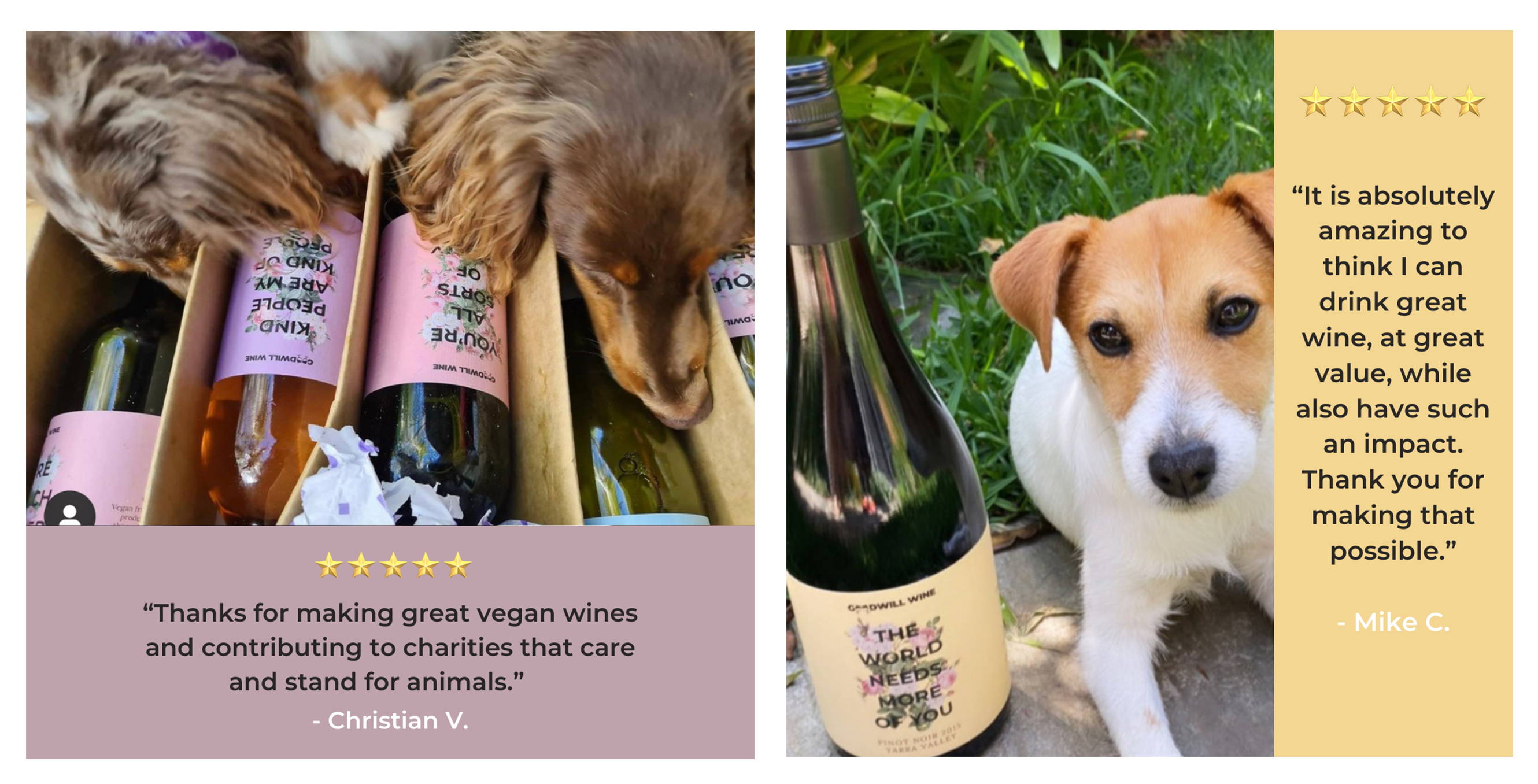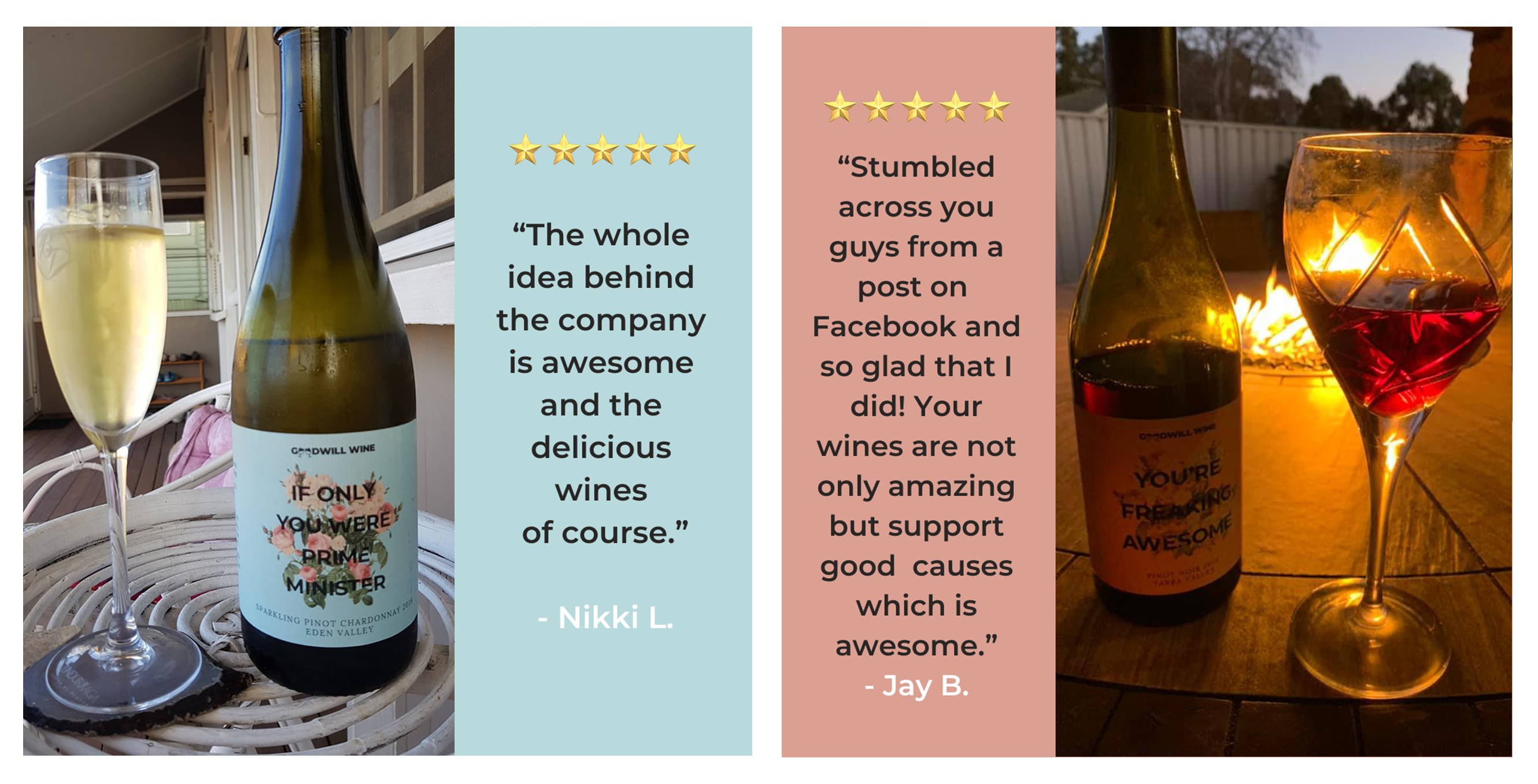 We guarantee you'll love our wines
Join the thousands of customers who love our wine, and if you're not 100% happy,
we'll refund your money and still make the donation to your chosen charity.
---
0 comments